FAST Pinball Expansion Board for 256 LEDs¶
Part Number: FP-EXP-0081
The FAST Pinball FP-EXP-0081 Expansion board lets you add 256 RGB LEDs to your machine. It is used in the FAST Modern platform (controlled by a FAST Nano or FAST Neuron controller) to add additional functionality to your new pinball machine. It can also be used with the FAST Retro platform (controlled by a FAST Retro controller for an existing pinball machine) to add new and interactive mods or expansions to classic machines. (Click image to zoom in.)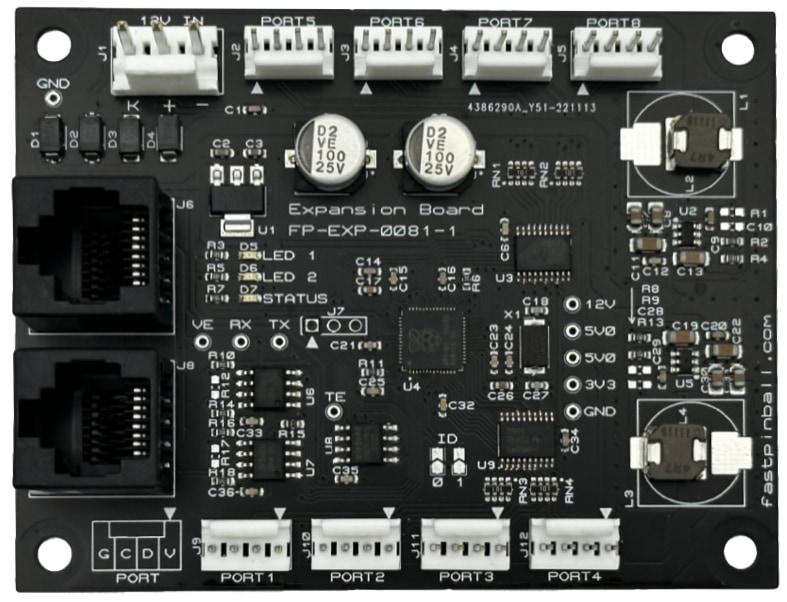 Features¶
Two Expansion Bus ports provide flexibility to daisy chain / branch out as needed.
12V power input provides power to the board.
Onboard DC/DC converters provides up to 20W sustained (10W for each bank of 4 ports) 5V power for LEDs.
8 RGB LED ports can drive up to 32 RGB LEDs each for 256 total. LEDs can be WS2812. (APA102 LED support will be added with a future firmware update.) Mix and matching between the ports is ok. (Each port can only support a single type since the wiring is different for each.)
The FAST Expansion Bus¶
The FAST Pinball Expansion Bus is a new & modern platform for building interactive mods and adding capabilities to pinball machines. Every current FAST Pinball controller supports the FAST Expansion Bus, including the Neuron and Nano Controllers (for newly-built machines), as well as our FAST Retro Controllers for classic Bally/Williams machines (System 11, WPC-89, and WPC-95).
Individual expansion boards are connected to the FAST Platform Controller via RJ-45 cables. Many boards have multiple ports to allow for daisy chaining and "fanning out" topologies. (The Expansion Bus is NOT a loop network, so the cables do not need to be connected in a loop.)
Expansions boards have various features and capabilities built-in, but they can also be extended via breakout boards which plug into breakout headers. Breakout boards add additional functionality to the expansion board, such as additional LEDs, flashers, servos, steppers, other drivers, etc.
Breakout boards can also be built in custom form factors. For example, machine-specific playfield LED boards could be built with the FAST Breakout Connectors to plug directly into a FAST Expansion board.
Here's a conceptual diagram of the FAST Expansion Bus: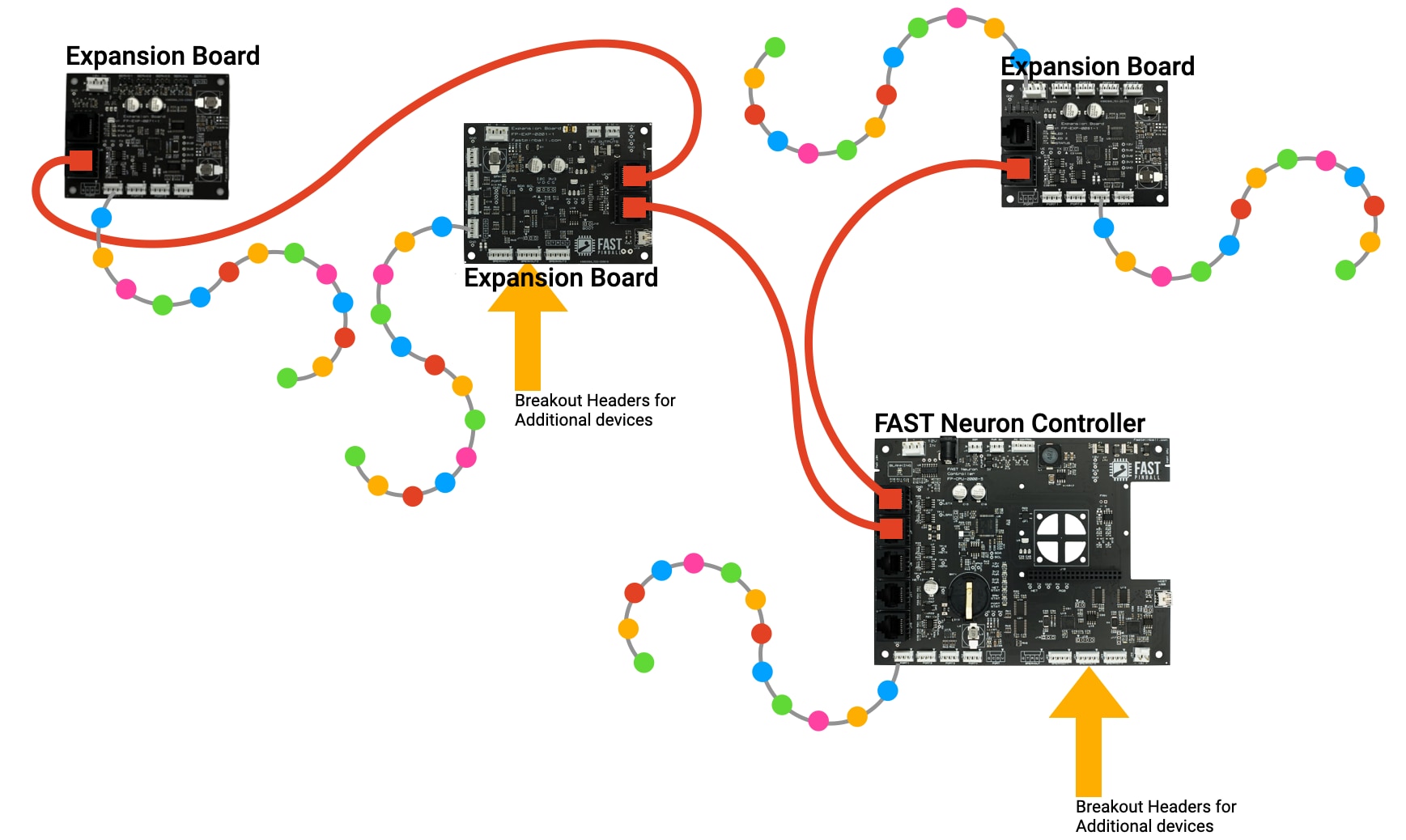 Connectors Housings Needed¶
| Qty | Pins | Size | Description |
| --- | --- | --- | --- |
| 1 | 3-pin | 0.156" | 12V power in |
| 8 | 4-pin | 0.100" | LEDs |
Mechanical Diagram¶
Dimensions are in mm
Wiring Guides¶
Documentation Feedback? Requests? Confused?

Hi! I'm Brian, and I'm responsible for the documentation at FAST Pinball. If you have any feedback, requests, corrections, ideas, or any other thoughts about this documentation, please let me know! You can email me at brian@fastpinball.com. Thanks!
N or > jump the next page, P or < for previous, search with S or ?