How to wire your FAST Nano-controlled pinball machine¶
Wiring, high voltage, and electricity can be dangerous. Read this first!

The voltages and electricity discussed here can be dangerous and could cause property loss or death. It is your responsibility to ensure you are aware of these risks and comfortable with these processes. Furthermore your local jurisdiction may have regulations or rules which differ from what we discuss here, including wiring colors, standards, techniques, etc. Although based on broadly adopted methods, FAST Pinball does not employ Professional Engineers and this information is not professional recommendations. There may be errors, omissions, or typos here. Any pinball machine available to the general public should be reviewed by a licensed Professional Engineer in your region. Use this content at your own risk.
This guide is old (for FAST Nano-powered machines only)
This wiring guide is for pinball machines powered by a FAST Nano Controller. If you have a FAST Neuron Controller, please see the Neuron wiring guide.
The following guides walk you through the complete wiring of a FAST Nano-controlled pinball machine, topic-by-topic. The numbers in the drawing match up to the numbers in each diagram. We assume you follow these in order. Click the image to zoom in.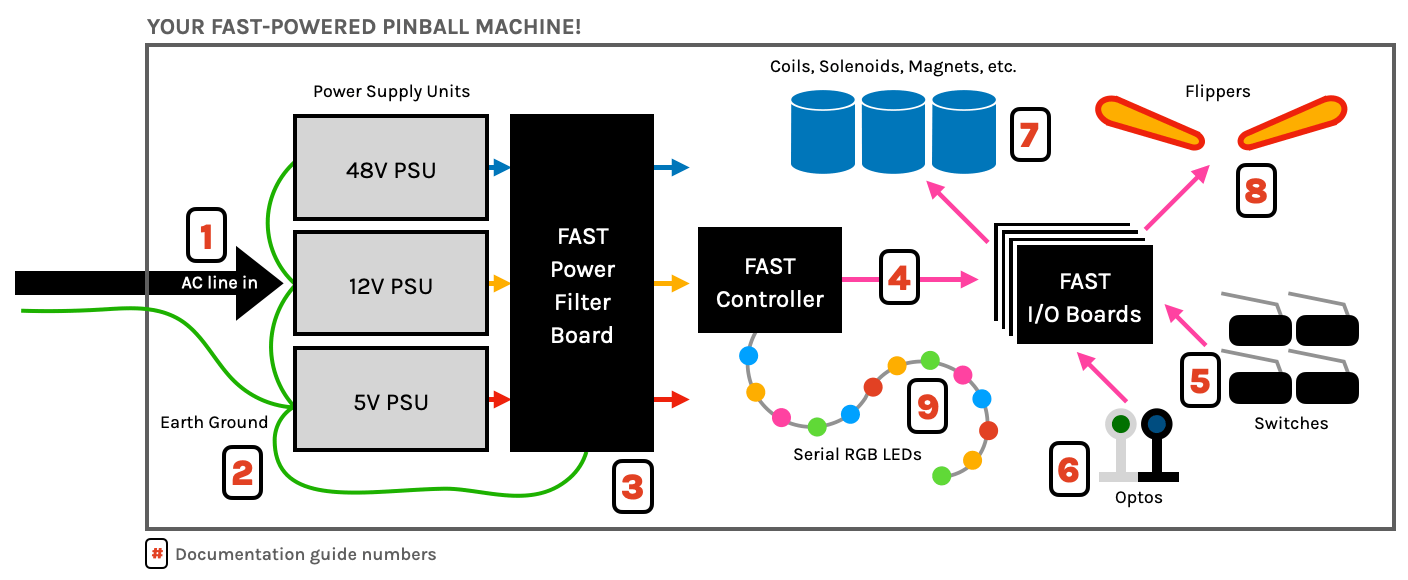 N or > jump the next page, P or < for previous, search with S or ?