Overview of the FAST Pinball Retro Platform¶
This information is preliminary
FAST Retro Platform components are not yet available directly as we focus on our game studio partners releasing commercial conversion kits and new game experiences based on this platform. We will release Retro platform controllers for direct sale in the future.
The FAST Retro platform is THE premium platform used to update and modernize classic pinball machines. Current machine architectures supported are:
The FAST Retro Platform Controller is a replacement board for the existing MPU (MPU/driverboard combo for System 11). It is footprint and plug-compatible with the original board and can be installed in about 5 minutes.
With a FAST Retro Controller, you can:
Immediately run the original / classic game code (via fully licensed and legal game ROMs and engine built-in to the FAST Retro Controller)
Add smart mods and enhancements to the classic game via the FAST Expansion Bus
Run "new" / modern code, provided by a commercial game maker which you buy from them (for example, FunHouse Rudy's Nightmare by Pedretti Gaming)
Create your own new code for the existing machine (with the Mission Pinball Framework or whatever other software you want.)
The FAST Retro Controller can switch back and forth between the original classic code and new/custom code via a long (5 second) start button press.
Here's a photo of a FAST Retro Platform Controller installed in an existing Addams Family machine, running the original classic game code directly from the controller. Note the FAST Controller completely replaces the original WPC-89 controller. (This particular machine also includes an LED DMD replacement, but that is not necessary as the FAST Retro Controller can also work with your existing gas DMD.)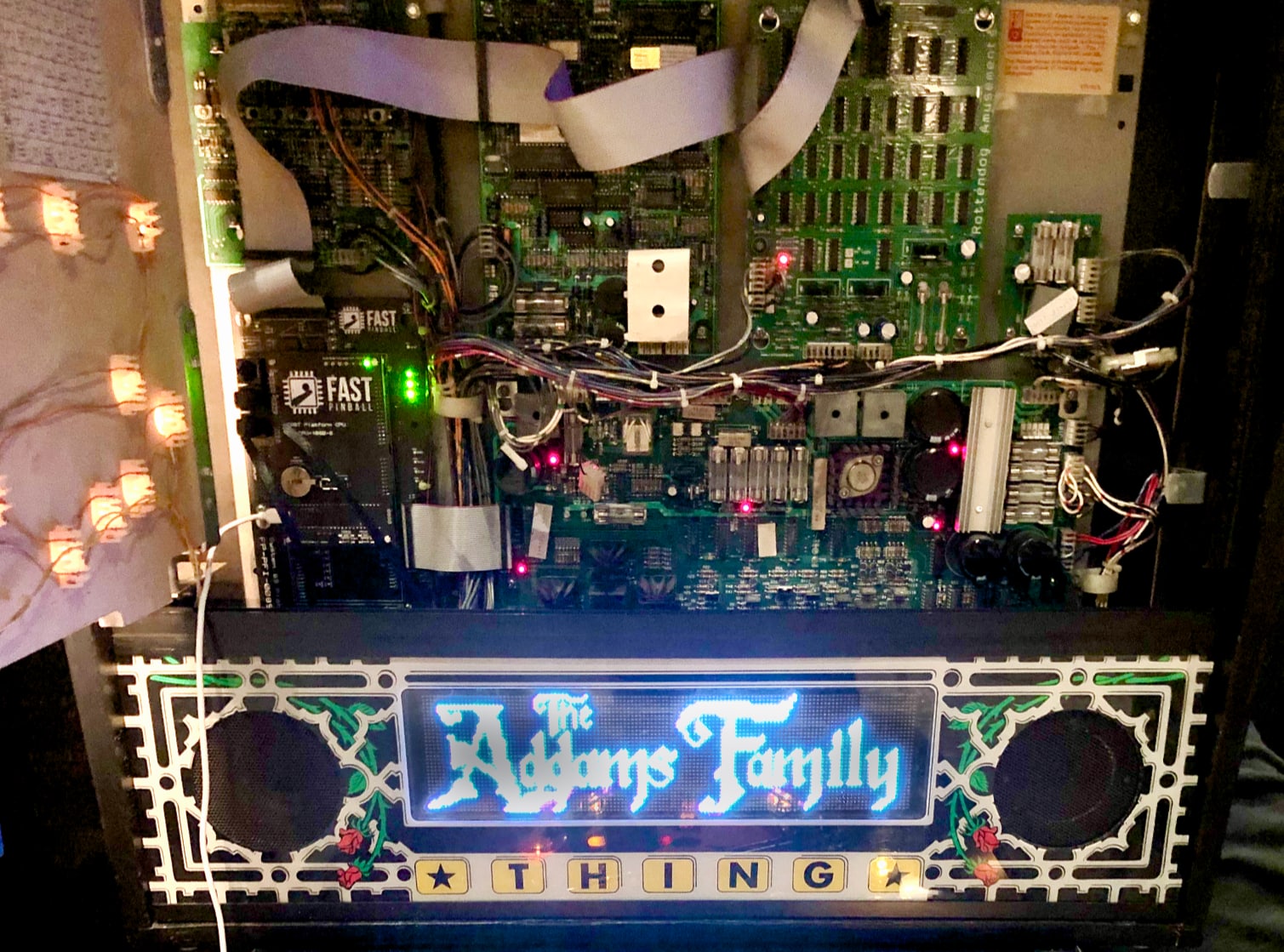 Replace your existing MPU board.¶
Each FAST Retro Platform controller is footprint and pin-compatible with the existing MPU board it's replacing. The replacement process takes less than 5 minutes:
Open your backbox and take a photo (just in case)
Remove all the cables attached to the original MPU.
Loosen the screws holding in the original MPU and remove it.
Install the FAST Retro Controller in its place and tighten the screws
Reconnect all the connectors and power your machine on!
Since the FAST Retro controller runs the "1.0" / original game code, you no longer need your original MPU. Since original MPUs are starting to get scarce (especially ones which contain the WPC ASIC), you can sell your original MPU to offset some of the cost of the new FAST controller. (Original working WPC MPU boards are currently going for $225-300 on eBay.)
Purpose built original / classic game play¶
Every FAST Retro Controller has the ability to run the original Bally/Williams ROMs and play the original games. This functionality is built-in to the FAST controller and does not require any external computer or components. The new controller boots up in less then 10 seconds.
The original game ROM can be installed onto the controller (via the factory or a software download--no DIP switches or physical chips are involved) and is fully licensed by Bally/Williams through Planetary Pinball.
Read more about the details of the FAST Retro Platform original ROM emulation and how it works on our emulation page.
An interactive Expansion Bus¶
All FAST Retro Controllers support the FAST Expansion Bus which enables rich and interactive mods like you've never seen them before.
A hackable board for building your dream creation¶
If you've dreamed of writing your own game code--whether it's for a retheme or a modern-style game rewrite, using a FAST Retro Controller in an existing classic machine means you can be up and coding in minutes without any wiring (apart from the initial 5-minute install of the new FAST controller). When you boot your machine into the modern mode, you can interact with the FAST controller just like any other (send it serial commands, run MPF, etc.).
And since the original classic ROMs are built-in to the controller, you can always play the original game at any time without having to swap out your controller.
Additional Notes¶
The FAST Retro Platform Controller is a drop-in replacement for the original controller. No adapters are needed. 5-minute install.
Original classic emulated games play and feel like the originals. (We built our own emulator for this.) More information here.
Original classic game ROMs are fully legal, licensed, and officially supported.
You don't lose the old game when you install the new FAST Retro controller.
All existing mods, kits, lights, etc. should "just work"
FAST hardware will not tax the machine more than the original board did.
Elegant switching mechanism between the classic and modern game versions.
Everything is configurable by the owner / operator.
New modern games can access all the modern features and capabilities of the FAST platform.
Documentation Feedback? Requests? Confused?

Hi! I'm Brian, and I'm responsible for the documentation at FAST Pinball. If you have any feedback, requests, corrections, ideas, or any other thoughts about the docs, please let me know!

You can email me at brian@fastpinball.com. I maintain this site in my spare time, so there might be a week or so delay if you email me.

If you have a more pressing need, reach out to us via Slack, or email Aaron Davis.

Thanks!
N or > jump the next page, P or < for previous, search with S or ?