FAST Cabinet I/O Board¶
Part Number: FP-CAB-0001
This product is not yet released
This documentation is for a product that is not yet released. Final details may change.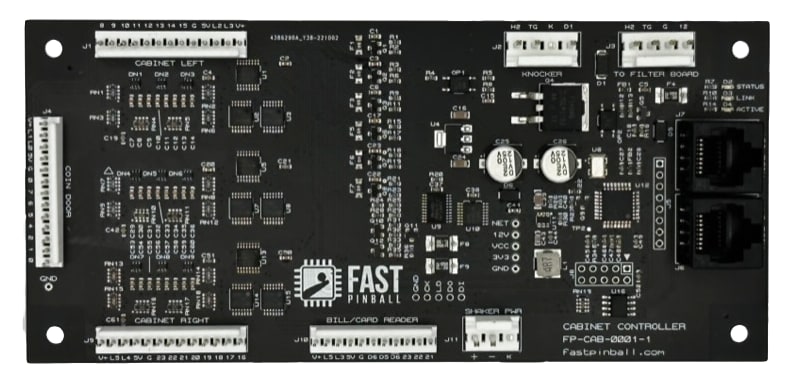 The FAST Cabinet I/O Board is a special purpose I/O board designed for placement in the pinball cabinet itself. This board handles all cabinet buttons & switches, including flippers, start button, launch, tilt(s), coin switches, service buttons, bill validators, etc. It also includes 8 drivers--a standard high current one for a knocker, and 7 low current drivers to control LEDs for lighted buttons.
Since this Cabinet I/O Board is part of the "Gen 2" modern platform (for machines built with the FAST Neuron Controller), switch and driver pairs can be on different boards, so you can have your flipper buttons connected to this Cabinet I/O Board while the flipper coils and EOS switches are connected to a different I/O Board under the playfield.
The FAST Cabinet I/O Board has three switch headers (for the cabinet's left side switches & buttons, the right side ones, and coin door interfaces).
Note that this I/O Board only works with FAST Neuron Controllers. It is not compatible with the "Gen 1" controllers such as the Nano.
Features¶
24 direct switch inputs
8 driver outputs
Connectors¶
Coming soon ...
Mechanical Diagram¶
Dimensions are in mm
Block Diagram¶
Coming soon ...
Status LEDs¶
Coming soon ...
MOSFET / driver mapping¶
Coming soon ...
Firmware Updates¶
FAST I/O Boards have microprocessors on them, which means they have firmware. Unlike playfield I/O boards, the cabinet I/O board is only compatible with Neuron Controllers and will not function with a Nano. Check our firmware page to see the latest versions and learn how to update your boards if needed.
Wiring Guides¶
Coming soon ...
Connector Pinouts¶
Coming soon ...
Documentation Feedback? Requests? Confused?

Hi! I'm Brian, and I'm responsible for the documentation at FAST Pinball. If you have any feedback, requests, corrections, ideas, or any other thoughts about this documentation, please let me know! You can email me at brian@fastpinball.com. Thanks!
N or > jump the next page, P or < for previous, search with S or ?