FAST Neuron Starter Bundles are in stock!¶
We are beyond excited to announce that the FAST Neuron Controller, and several related new boards, are now in stock and available for purchase at the FAST Pinball online shop! Our previous controller, the Nano, has been the workhorse of the FAST Modern Pinball Platform for the past six years and used in hundreds of pinball machine projects. But we've unfortunately been out of stock since this past summer.
But today, the FAST Neuron Controller, which has been proving itself this past year in commercial pinball machines, is finally now available for sale to homebrew pinball makers as well!
In addition to the Neuron Controller, we're also releasing two expansion boards, a new Smart Power Filter Board, and a new FAST Playfield Interchange Board. Here's a look at the boards that make up the FAST Modern Platform: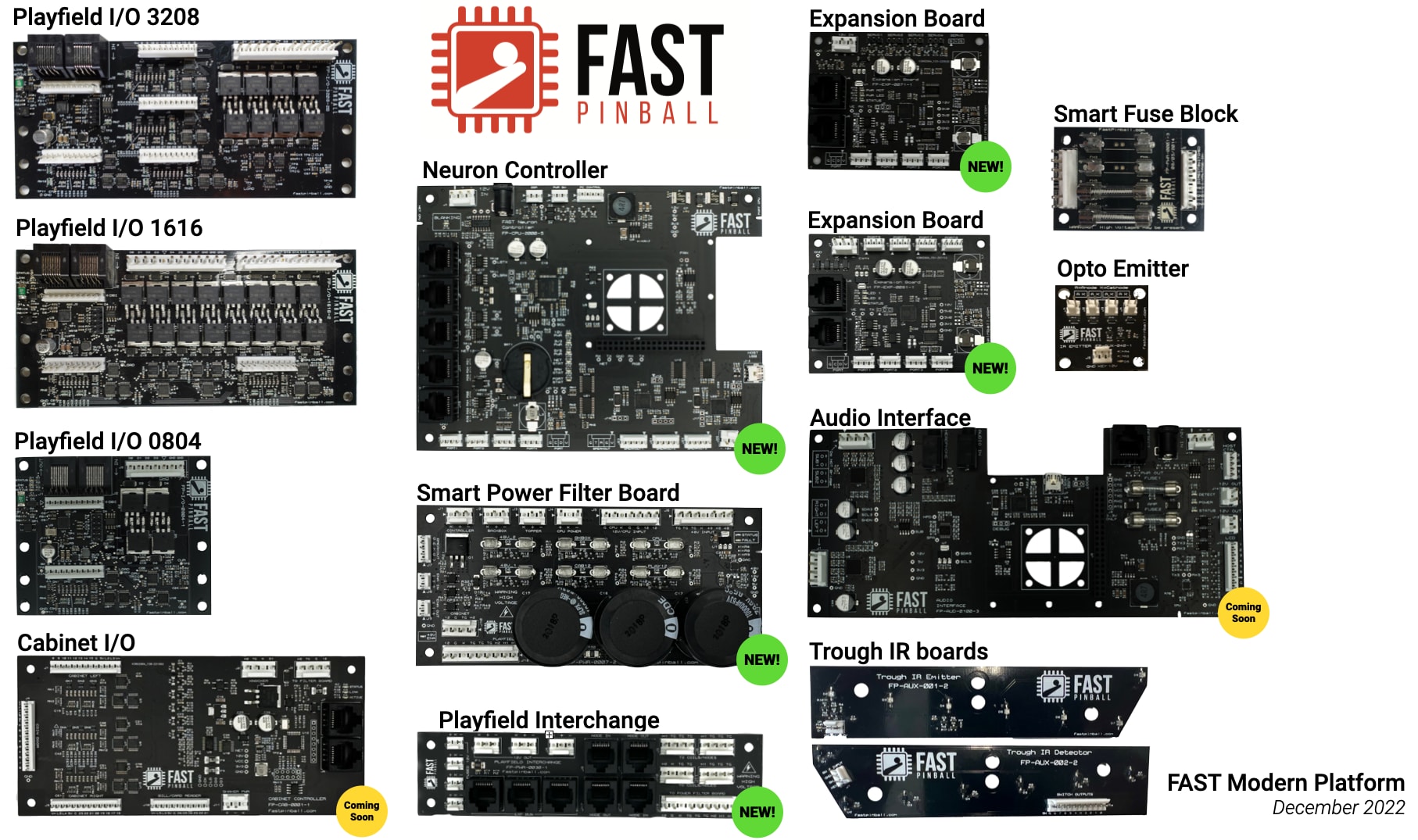 What's new with the Neuron?¶
I wrote a blog post last week which walked through the details of new features of the Neuron, as well as the rest of the new boards. Check out that post for the full details, but here are the highlights:
The Neuron builds upon and refines the performance and reliability we've had with our Nano and Core Controllers over the past 8 years.
All of the boards in the Neuron system have been designed to work together in the prescriptive and integrated way. We've thought about every connector, every wire, and every pin, to ensure everything is as convenient, performant, and safe as possible.
The Neuron platform introduces true "machine control", with integrated power system voltage and current monitoring, bad fuse detection, fault detection, as well as coordinated smart power management between the host PC, LCD, audio system, and even the main pinball machine itself.
We have completely removed the 5V power supply from the pinball machine, simplifying wiring and allow for longer wiring runs with more connectors to be used. Boards that need other voltages (e.g. 5V for LEDs) generate it locally from the 12V supply.
Power distribution is built into the system, including dedicated main/trunk/branch circuits for the backbox, topper, cabinet, and playfield.
"Autofire" switch + driver pairs no longer need to be connected to the same I/O board. (e.g. now you can plug your flipper buttons into the cabinet I/O board and your flipper coils and EOS switches into a playfield I/O board, or plug a pop bumper coil into one I/O board while its switch is connected to another.)
The new FAST Expansion Bus with expansion boards allow massive amounts of distributed "lights and motion" in your machine (RGB LEDs, servos, etc.), future proofed for more types of LEDs. (WS2812, APA-102, RGBW in addition to RGB)
And this is only the tip of the iceberg. We have many more exciting products in the pipeline which will be released in 2023, including a dedicated audio platform (built around the FAST Audio Interface), a purpose-built Cabinet I/O Board, and several other things we haven't announced yet!
We want you to succeed: wiring guides, instructions, and lots of drawings¶
At FAST Pinball, we pride ourselves on the having the best, most reliable, and fastest system in pinball. We also take pride in having the best documentation in pinball!
We're writing and drawing diagrams as quickly as we can to help you succeed with your pinball machine build based on the FAST Neuron Controller and FAST Modern Platform. Here's a quick look at some of the guides and resources we've put together for the new Neuron-controlled pinball machines:
Guides and tutorials for hooking up your Neuron¶
Specs & links to the new products¶
Here are links to the documentation for the five new products we're releasing today, as well as links to the new FAST Modern Platform documentation.
Neuron Controller, Neuron Starter Bundles are now available to purchase¶
The FAST Neuron Controller is now available to purchase in the FAST Pinball online shop.
You can buy the Neuron Controller by itself ($219). We also have a "starter bundle" where we bundle together the most common pieces people use to start their projects. The FAST Neuron starter bundle includes:
Neuron Starter Bundle¶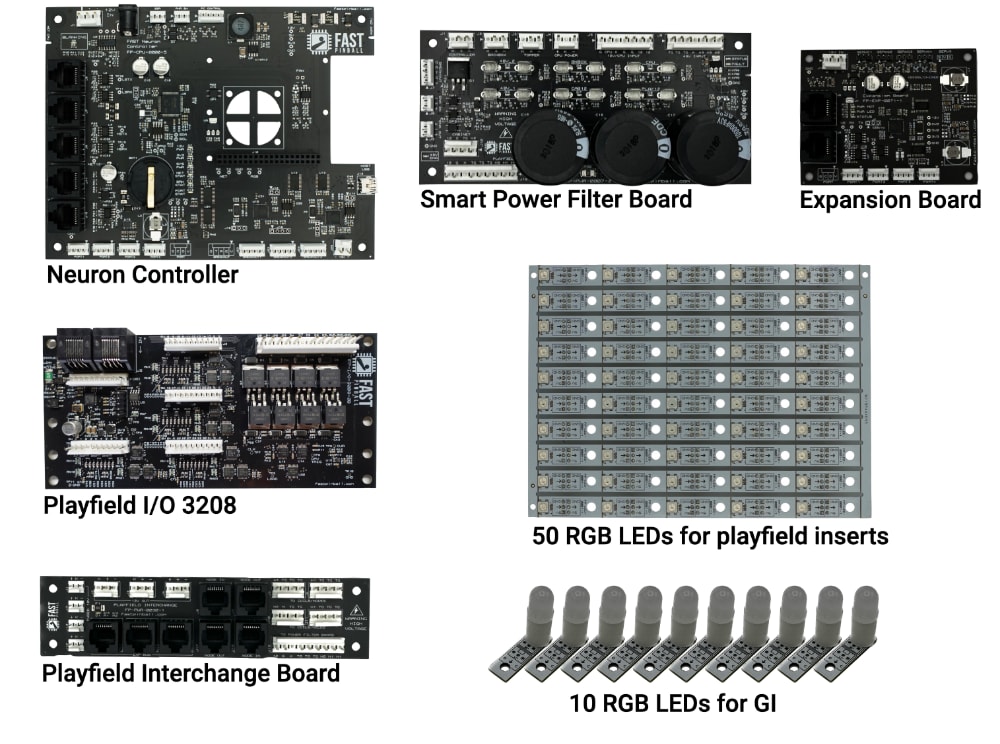 Here's everything included in the starter bundle. This is enough to wire a typical "lower third" of a pinball machine playfield. (You might also want to add a set of the FAST Trough Opto boards)
One expansion board, your choice of either:
You can purchase this starter bundle for $569, which is almost 15% cheaper than buying all the pieces separately. You can also add the two power supplies that we recommend to the bundle, as well as the connectors and pins for all the boards.
All of the boards are available to purchase individually if you'd like to customize your own bundle.
Next steps¶
While releasing the Neuron to the public is exciting, we recognize that for you, this is just the beginning of your pinball-making journey, and we want you to succeed!
To that end, we've created an online Slack community of fellow FAST Pinball makers and builders, and everyone who buys a controller from us is invited to join that community. There are over 100 pinball-building nerds chatting every day of the week about various pinball topics, including hardware, software, wiring, 3D printing, ramps, molds, lights, sound, computers, woodworking, video, and everything else you need to make your machine successful. People in our community are so helpful and friendly, and a lot of people trade skills and favors with each other. ("I'll make your wiring harnesses if you 3D print me some wire standoffs", etc.)
We're also just scratching the surface of our Neuron documentation journey too. We're continuing to write more guides and tutorials, as well as recording more videos and audio guides to provide as much as we can to maximize your chances of success.
So, from all of us at FAST Pinball, Aaron, Dave, Eli, and me (Brian), thank you for your trust in us, and your understanding as we've navigated the global complexities to get these products in your hands. We can't wait to play the machines you build!
Happy pinballing!
Documentation Feedback? Requests? Confused?

Hi! I'm Brian, and I'm responsible for the documentation at FAST Pinball. If you have any feedback, requests, corrections, ideas, or any other thoughts about this documentation, please let me know! You can email me at brian@fastpinball.com. Thanks!
N or > jump the next page, P or < for previous, search with S or ?