FAST Friends Newsletter: October 2022¶
Hello FAST Friends! Happy October! (err, and September too, as our last monthly-ish newsletter was way back in August.)
We just got back from a busy and fun Chicago Pinball Expo 2022. So much is happening in the FAST Pinball universe as we transition from talking about new things to delivering these things into the market.
We're putting the final touches on our next-generation Neuron platform, including several new boards and technologies. We're also expanding the titles we're working with for our Retro controllers as we prepare those for release to the general public in 2023. And we just launched our blog!
The colder and darker weather of the fall and winter provides a great opportunity to stay inside a heated garage and build pinball machines!
Aaron, Dave, Eli, & Brian
Get this newsletter in your inbox each month!
This is the web version of an edition of our FAST Friends newsletter, our monthly-ish email newsletter sharing the latest in the FAST Pinball world and from our extended family of pinball makers and builders.
Chicago Pinball Expo 2022¶
The Chicago Pinball Expo 2022 just wrapped up. We had a big booth there with a bunch of different things to show. (The photo above was taken about 2 minutes before the show opened on Thursday. This was the only time our booth was empty enough to see everything in a photo!)
We had three classic Bally/Williams machines running our FAST Retro controllers which people could play to experience how well our custom hardware + emulation layer recreates the original classic gameplay experience. (All thanks to the technical wizardry of Dave and Eli!)
Attendees could play a Whirlwind (System 11), Whitewater (WPC-89), and Tales of the Arabian Nights (WPC-95).
We also had a FunHouse with the Rudy's Nightmare conversion kit from Pedretti Gaming, as well a Swords of Vengeance, the upcoming work-in-progress conversion kit for Swords of Fury from Paradigm Tilt.
Next to that was Fathom Revisited from Haggis Pinball, as well as Brian Cox's "Brian's Any Machine" which had his new code for a 1978 Bally Star Trek as well as one of his custom machines, Jupiter Crush.
Our booth also featured all of our boards and controllers, including several never-before-seen-in-public pieces of our next-generation modern platform, such as our smart power filter board (intelligent current monitoring and fuse status detection), our cabinet node board, our playfield interchange board, and our new machine wiring platform which removes the 5V power supply from machines. (More on this below.)
We published a blog post yesterday with a full recap of the show and our booth, including lots of photos and links, so check it out there for more details of the show!
Video of our Expo talk: Your pinball making journey starts now!¶
Aaron and I (Brian) gave a talk at Expo called, "Your Pinball Making Journey Starts Now!" In this talk, we focused on the multiple paths to creating pinball, specifically the ability to use our Retro controllers in an existing machine.
(My favorite quote was from Aaron, "You can make pinball without needing to start with cutting wood or bending metal.")
Pinball News was onsite at the show and recorded the talk where you can now watch it on YouTube. If you're interested, you can see the video in our blog or on our videos page.
When will our starter bundles be back in stock?¶
One of my roles at FAST Pinball is to answer emails sent to hello@fastpinball.com. The absolute #1 question I get is "When will your starter bundles be back in stock?"
We sold out of our starter bundles in June of this year and have not restocked since then. The reason is the current starter bundles listed on our website are based on our existing FAST Nano Controller and related boards. We decided not to do another production run of Nano Controllers because our next-generation modern platform based on the FAST Neuron Controller is coming out soon, so we are focusing our efforts on that.
So . . .
What is the FAST Neuron Controller?¶
The FAST Neuron controller is conceptually similar to the existing FAST Nano Controller. In fact it uses the same FAST I/O Boards (node boards), same FAST Serial Protocol, etc.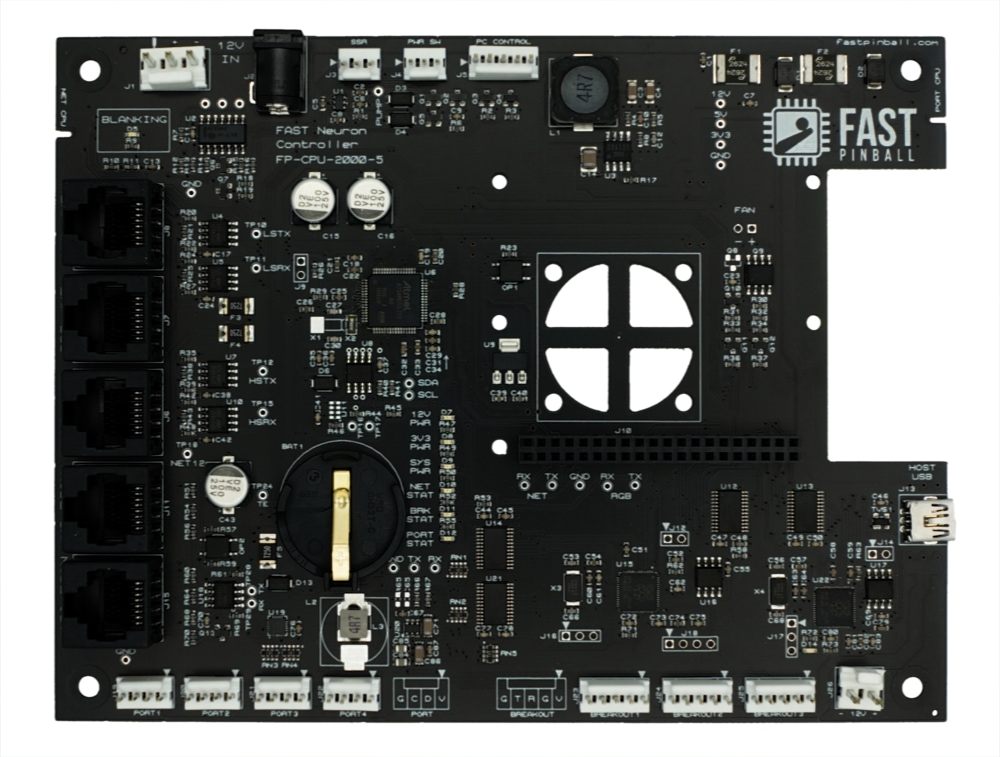 The Neuron is essentially the next-generation Nano with several enhancements that we're excited about.
One of the biggest changes is that Neuron-based systems do not require a 5-volt power supply. (So you only use 48v and 12v.) Your machines will still use 5-volt LEDs, but the boards that drive those LEDs will generate the 5 volts they need locally on the board. This simplifies the overall system design and is much easier to implement as transmitting 5 volts throughout a machine requires a lot of current and is susceptible to voltage drop.
The Neuron also uses a next-generation I/O Loop (via the existing I/O node boards running updated firmware) which is even faster and more flexible than the existing system. In fact in Neuron-based systems, you no longer need keep your high-speed switches and drivers on the same I/O boards.
The FAST Neuron controller also supports soft-start and host PC power control (whether that's a Raspberry Pi seated directly into the Neuron or a separate more powerful computer connected via USB), and it allows the main power switch in the front right corner of your cabinet to be a simple low-voltage pushbutton switch. (In other words, you can keep all the AC line voltage power safely in your backbox and out of the cabinet while still benefitting from the convenience of a power switch in the traditional expected location.)
We will be releasing other boards as part of the Neuron platform. For example, we've upgraded our Power Filter Board to be a "Smart" Power Filter Board, giving that board the ability to intelligently monitor the current draw on the 48v rail as well as fuse status detection and power state management. The smart power filter board can recognize when an overcurrent situation is happening and cut off the power, potentially even saving your fuse and preventing a MOSFET from blowing. (And if you do have a failed FET, since they fail "on", the smart power filter board will see this and cut off the 48v power to the system before cascading damage occurs to additional downstream components.) All of this is communicated to the Neuron controller and then to the host computer running your game code, so it can be logged / communicated / addressed appropriately.
The Neuron platform makes use of the FAST Expansion bus for controlling LEDs (WS2812 or APA-102), servos, flashers, steppers, motors, smart mods, etc. This is the same expansion bus that is now available on all of our boards, including the Retro controllers.
We also have a new playfield interchange board which will allow you to easily unplug a playfield from a cabinet with just a few RJ-45 and power connectors in a single location, as well as a cabinet interface node board for the left front corner of your cabinet to drive all the cabinet switches and drivers, including the coin door interface, a knocker, and low-current lighting such as flashing start buttons and the coin mech lights.
This will be coupled with the new FAST Audio Interface we announced a few months ago which provides three amps (speaker panel, subwoofer, and headphones), software-controlled volume and sound shaping options, impedance-based headphone detection, and our LCD panel soft control which would allow (for example) the system to delay power on to the LCD screens until the host PC is up and running.
For existing FAST Nano users, we will release a plug-in "hat" for the Nano will will add the Expansion Bus and DSP Bus RJ-45 ports, allowing current machines to leverage many of the new capabilities of our latest platform.
We're putting the final touches on the Neuron-based platform now, including getting all of the new wiring guides and documentation written and published. We're on track to get the Neurons (and related starter bundles) released for sale to the general public by the end of the year!
In the meantime, you can check our our product docs to read more about the Neuron, Audio Interface, expansion boards, and more. We are continuously publishing new details and specs which you can read about in our . . . blog!
We have a blog. You should read it. End of headline.¶
In my previous career before joining FAST Pinball full time this year, I was a tech blogger and writer. (I'm the guy who writes all of our product documentation and tutorials too, which I absolutely love! For real!)
I wanted to start a blog since joining FAST and finally made the time to get it set up a few weeks ago. You can read it at fastpinball.com/blog and/or subscribe via our RSS feed.
The focus of this blog will be around the FAST Pinball ecosystem and the world of creating custom and homebrew pinball. It's a place for us to share real and useful content and is our focus for sharing real and deep knowledge versus the ephemeral world of social media. (So, no likes, comments, or follows requested. Just read and make pinball!)
We've also slightly re-arranged the various FAST pinball websites so that our documentation, product manuals, and the blog are all on the same site, meaning our site search tool will pull together results from all of them.
So follow there to keep up with our latest tech tips and announcements, and feel free to reach out (hello@fastpinball.com) if there are things you'd like to see or read about.
In the meantime, from all of us at FAST Pinball, happy pinballing!
Documentation Feedback? Requests? Confused?

Hi! I'm Brian, and I'm responsible for the documentation at FAST Pinball. If you have any feedback, requests, corrections, ideas, or any other thoughts about the docs, please let me know!

You can email me at brian@fastpinball.com. I maintain this site in my spare time, so there might be a week or so delay if you email me.

If you have a more pressing need, reach out to us via Slack, or email Aaron Davis.

Thanks!
N or > jump the next page, P or < for previous, search with S or ?